The Peptonic liquid feed supplement was developed and manufactured in the 1970s in France by Countess Batthyany's racehorse vet and advisor. With her horse breeding and success on the race track, the Thyssen heiress founded a dynasty of thoroughbred horses in Europe. Horses fed with the liquid supplement won worldwide at the highest level, including the Prix de l'Arc de Triomphe, Japan Cup, Breeders' Cup, and the German Derby.
Longstanding racing professionals still remember the benefits of the Peptonic liquid feed supplement. It was extremely popular with horses that were picky eaters. All of legendary trainer Heinz Jentzsch's racehorses were fed with this supplement, making it part of the success story that led him to his 30 national championship titles.
Legendary German trainers Hein Bollow, Uwe Ostmann, Harro Remmert, and many older trainers who are still active, are convinced that it was one of the best supplements on the market. There have often been enquiries as to whether it can be put back in production because, despite its great success, its distribution was unfortunately halted when the proprietor of the formula became ill.
Following long negotiations and extensive research work, this success story from the past is back, now combined with Moringa Oleifera!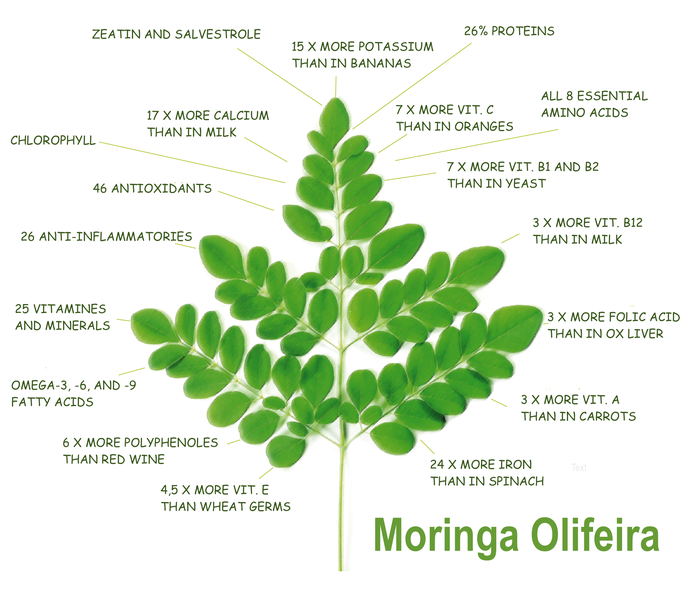 The latest scientific studies have also been substantiated by the incredible ORAC values for all Moringa oleifera products. ORAC stands for "Oxygen Radical Absorbance Capacity". In simple terms, ORAC is a lab test that can measure the antioxidant activity of any substance and assign a value to it. The higher the value, the stronger the antioxidant properties of the substance.
The ORAC value of Moringa leaf powder is an incredible 62,600 umol TE/100g. By way of comparison, the highest value among raw fruits is present in the aronia (chokeberry) = 16,062 umol TE/100g. The highest value among raw vegetables is present in the artichoke = 6,552 umol TE/100g.
Why is this ORAC value so important? In animal metabolism there are countless different oxygen compounds which may be converted into free radicals. And antioxidants protect cells from free radicals that without this protection may cause cancer. 
No other natural feed, drink, or oil known today can provide your horse and his skin, hair, or coat with even remotely as many nutrients and such a balanced combination, despite their variety. These include the 11 most important vitamins, the 10 most important minerals, a variety of trace elements, all eight of the "essentials", that is the amino acids essential for inclusion in the diet, and 10 of the 12 "non-essentials", in other words the amino acids produced by a healthy body, a variety of omega fatty acids, 26 different anti-inflammatories, and 46 antioxidants. 
To learn more visit Pepmori "Basic".
---
---
IMPORTANT: while only traces of the transmitter zeatin are included in many other supplements, the Moringa tree contains several times the usual values. Hundreds of different cytokinin derivatives have now been synthesised in laboratories around the world. But it has not been possible to synthetically produce anything that is nearly as effective as the Moringa tree's natural zeatin!
Zeatin greatly accelerates skin regeneration, slows the ageing process, and increases the bioavailability of Moringa vital substances. It is scientifically proven, especially in horses, that the tree's leaves noticeably promote the supply of calcium, iron, magnesium, vitamin A, and vitamin B1, optimise the supply of vitamin B2 and vitamin E, supply protein, and are very rich in antioxidants and cancer-inhibiting mustard oil glycosides!
Thus the combination of Peptonic + Moringa is the first superfeed for horses in heavy work, in training, or participating in competitive sports. With regular use it is particularly helpful in maintaining high performance by natural means. It protects horses from an unbalanced diet, particularly in winter if hay quality deteriorates, and prevents symptoms of deficiencies that can cause serious organ or bone diseases. It provides support during acute illness, helps during recovery phases, and encourages rapid recuperation between competitions.
For more information visit Pepmori "Professional".
---
---
The great wealth of nutrients and vital substances in Moringa leaves has been helping for years in the fight against poor nutrition and malnourishment being waged by the WHO and FAO - and it makes a difference even if the person only takes two tablespoons of Moringa powder per day. In a 1997 French study, notably women and children in southwest Senegal were fed Moringa powder daily. Pregnant women were also encouraged to take the powder regularly, and to continue during breastfeeding.
After a long period of observation, doctors noticed that the overall health of malnourished children and women was much improved. Taking the powder had the effect of increasing weight, and thus was able to successfully support the fight against malnutrition. It was also observed that women who took Moringa regularly after childbirth recovered from anaemia better and faster, and their children were born into the world with a higher birth weight. Moringa powder also promoted the production of milk in lactating women.
And of course foals and young horses as well as pregnant and lactating mares have a significantly increased requirement for vital substances. 
To learn more visit Pepmori "Breeding".